Our latest sessions for 2016-7 are here. The Viva slides sit on our dedicated Viva Page.
Note that there are far more slides than we will get through as the sessions will focus on your questions and objectives for attending. The other material is presented as an additional resource.
Supervisor-Student Relationship
Given the minimal problems experienced, this session took a slightly different direction and we discussed the potential value of supervisors in helping to achieve the maximum potential of a PhD. The slides are below: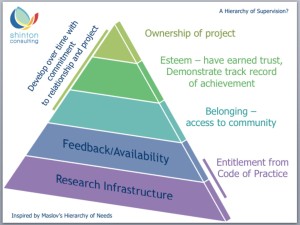 The supervisor-student expectations questionnaire that I mentioned during the session can be found here: Griffith University This demonstrates how much flexibility there is between supervisory models and may help you to understand your supervisor's approach.
The page for part-time researchers… Part-time research, Full-time challenge
But what if…?
Approaches to research supervision in the Arts and Humanities are diverse, but subject to a range of regulations and guidelines. These should help iron out difficulties, provided that you are aware of your responsibilities and those of your supervisors. Despite this, sometime tensions arise and it's important to face up to these as early as you can. At Glasgow University there are a range of mechanisms to help with this. (If your supervisor is the best point of contact to resolve issues – and they usually will be – it may help to refer to this guide to having difficult conversations – We Have To Talk.)
Other members of the supervisory team:
Your co-supervisor may be able to provide additional support, particularly at times when your main supervisor is under pressure because of deadlines or teaching load. The role of the co- or second supervisor is flexible so it is important to have a conversation with everyone involved in your supervision to develop clarity about how things will work and who will do what. I will feed back any challenges with the co-supervision model to the College who will aim to address these through supervisor training – please continue to feed these to me or directly to the College Office (see below).
Adviser of Study:
If you are struggling with this and aren't able to discuss it with your supervisors (or have tried and things haven't improved) then look at the Guide to Doctoral Research (available from the right hand menu of this link along with other key documents) for the name of your Adviser of Study. Their role is described in this excerpt from the Guide:
"As a graduate student, you have a designated Adviser of Study. Advisers act in a pastoral role. They will:
• advise generally on College issues, including registration, resources, etc. as well as wider resources available in the University (e.g. SRC, the Disability Service, Counselling and Psychological Services, Financial Aid Team, International Student Support)
• deal with problems which your Supervisors, Subject or School PG Convener are unable to solve, as well as acting as a first port of call for issues relating to the supervision process itself.
The Adviser is not, however, able to act in a supervisory capacity (e.g. they will not read or comment on your academic work). Each Adviser has a weekly offi ce hour, but you may also email him/her to arrange a meeting. Advisers are allocated according to your School."
The Guide includes a list of Advisers with contact details and office hours.
If you are dissatisfied with supervisors not being around, not replying to emails, offering too few meetings etc then be aware that you should raise these issues – the Advisers are key contacts if you haven't been able to resolve this with your supervisor(s).
Graduate School Office and Dean
Another great source of advice and information is The Graduate School Office. Although they are a small team, I've found them a great source of support and they will probably be able to help you either directly or by letting you know who you should be talking to about your situation. If it is an academic issue they will probably encourage you to directly contact the Dean of Graduate Studies, Dr Barbara Burns (bear in mind Barbara's level of responsibility and consider her a LAST, not first resort.)
PhD by Practice or Professional PhD
These models of study differ from other PhDs in that they involve either a significant element of creative work (composition, creative writing, sculpture etc) or are based on work-related ideas. There is a growing population of PhD by practice researchers in Glasgow. If you feel that the existing training programme needs to be extended to address particular needs that stem from your research model, talk to the Graduate School Office or Dr Barbara Burns.
In the meantime, here are some resources from outside Glasgow related to this approach which may be useful:
Could an art practice-based PhD work for you? Artist, writer and PhD candidate Daniel Rourke reflects on balancing theory and practice.
A summary of the differences between practice based and practice led research from the Creativity and Cognition Studios (CCS) in Australia.
Candlin, F. (2000) A proper anxiety? Practice-based PhDs and academic unease. Working Papers in Art and Design 1 ISSN 1466-4917
Glasgow is one of a number of institutions which contributed to "The regulations and protocols governing 'Practice as Research' (PaR) in the performing arts in the UK leading to the award of PhD" (this document includes a summary of good practice in the form of a "Draft Ten Steps to a 'Perfect' Practice as Research PhD")
Cultural dimensions to Supervision
If you are new to UK culture as well as research, there may be additional challenges in developing an effective relationship with your supervisor. It's important to talk to them about the differences between your "home" research environment so they can appreciate what these additional challenges are.
To help articulate these differences, you might find it useful to refer to the work of Geert Hofstede, an expert in the different cultures presented by countries. With this work I'm always careful to flag up that you should look at this material with an understanding that any individual within a national culture can and will differ from the generalisations that need to be made to present characteristics in an efficient way. However, many people find the model useful particularly as it allows you to compare cultures.
The academic jobs website, jobs.ac.uk also includes profiles of different countries which have a more academic focus and describe the characteristics of their education systems working practices and workplace etiquette.
Social Media
I mentioned the value of social media, particularly twitter for broadening your awareness of academic practice. Here are a few highlights:
ACWRI – the academic writing hashtag (on the evening I've updated this page there are links on acwri on pretty  much everything we discussed in the workshop – publishing, managing information, academic writing style, use of peers to develop ideas, grant writing…)
PHDCHAT – a online community of PhD students who virtually convene weekly to discuss common issues
Academic SelfCare – advice and links associated with resilience, mental health and effective behaviours for researchers.
In many ways, the real heroes of the PhD community. If you are managing research alongside a full-time job, caring responsibilities or various part-time jobs, you will be aware that there are additional difficulties to manage. We're trying to build up our resources for part-time students which you'll find on a dedicated page Part-time research, Full-time challenge. Let us know which additional topics you'd like us to cover here.
Other PT related resources:
Details of the previous conference – I'm not sure this ran in 2015 but is likely to in the future, so look out for notifications from the central research support office and Graduate School.
Outline of a training day for PT researchers (giving you a template to run an event of your own?)
Video clips of successful part-time researchers talking about their strategies for success.
(See below for links to Nadine Muller's New Academic Blog, the Scottish Graduate School for Arts and Humanities and other useful suggestions.)
I suggested that the library would be a good source of advice for information management strategies. There's also a lot of advice online – here's an example blog about the value of Evernote for a literature review (which I found under #acwri)
I mentioned the LSE blog on impact – although focussing on the social sciences, it is still a great resource and the main place for discussions and opinions about the impact agenda. A post from late October looks at the value of academic blogging which we touched on briefly as a mechanism for writing and developing ideas.
Interdisciplinary research – this guide to evaluating ID research has just been published by Durham University.
Finally, start looking ahead to post-PhD life by using sites such as
An Academic Career – lots of advice from academics about the challenges, joys and realities of academic life.
Jobs.ac.uk – start tracking jobs and successful applicants now to focus your efforts and outputs. This site carries more than vacancies – many, many careers articles on academic life.
Conferencing– how to make the most of academic conferences
One blog I mentioned more than once, was Athene Donald's blog on Occam's Typewriter. The blog post on asking questions at conferences is particularly pertinant to building visibility and reputation.
The Prezi I showed briefly, on the topic of poster design, is here: http://prezi.com/cmgshoo0jxuv/producing-an-academic-poster-2013-edition/ A learning technologist shares his expertise.
More on posters: Effective Poster Design for Academic Conferences Gives a great overview of the conference environment, as well as advice on poster design.
Two links to blog posts that might help you take your conference networking further:
6 secrets to better networking at conferences (this is a LinkedIn article – the link still works but appears broken until you have signed in)
The New Academic blog by Nadine Muller (Eng Lit)
Social Media and Your Career A guide to Social Media for Researchers (dated, but still the best starting point)
Also, look at the many blogs by researchers on the theme of the value of social media on my page of links for new and aspiring principal investigators.
The following pages may also be of interest:
FUMO – Finish Up and Move On (for final year students)
Taking Control of your PhD Project