Here are the slides from the Cardiff Launch of Navigating the Funding Landscape, held on May 31st 2016. Don't forget that if you are an IOP member, you can get a copy of the guide by contacting Vishanti at the IOP on members.careers@iop.org or your local IOP officer.
The speakers gave advice on all aspects of the funding process and we're extremely grateful to them for not just agreeing to support the event, but for also staying for much longer than their presentation slots to answer questions from the audience.
Presentations
Sara's Introduction  – overview of the guide and some key points about the process of investigating and understanding the funding landscape. The personal development grid that we based one of our discussions around comes from the EPSRC.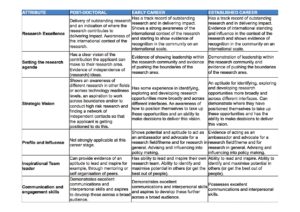 Paras Naik (University of Bristol) – his account of the steps he's taken to develop his leadership and experience as he plans his next fellowship application.
Jonathan Matthews (University of Bristol) shares advice on fellowships, the steps he took before and during his fellowship applications and the importance of host institution support.
Haley Gomez (Cardiff University)  on the challenges of choosing the best research to fund at panel and advice on how understanding the panel can help you prepare stronger applications.
You might also be interested in the following presentations from the London and Edinburgh events:
Anne Pawsey, University of Aberdeen – advice on building skills and creating opportunities as a PhD student and the value of mentoring
Andrew le Masurier, STFC – overview of the schemes for early career researchers and key points about successful applicants

Jaspreet Kular, EPSRC – with an overview of the schemes for early career researchers and wider context about the EPSRC's funding portfolio. We briefly looked at Grants on the Web – a great source of information for anyone considering an application to the EPSRC (the STFC version has been replaced by the RCUK Gateway to Research).
Rita Tojeiro, University of St Andrews – advice on fellowship applications and what can follow in your career if you persevere 
Cait MacPhee, University of Edinburgh – inside the panel and advice on fellowship interviews