I've been running workshops supporting new (and aspiring) principal investigators/research leaders for about ten years. Over that time the content of the workshops has developed and as some topics fade from relevance, others become more important.
The latest addition is resilience. There are two ways of looking at this – either that it's a depressing indictment of academic life that we need explicity help to cope with the pressures, or a more positive view which is that it's always been tough, but that the culture has shifted so it's OK to talk about the pressure. Perhaps it's one of the many wider benefits of the Athena Swan initiatives which are trying to create a more balanced and inclusive academic community.
Whatever the driver behind the increasing willingness to talk about challenges and dealing with them, it means that over the last 2 years or so I've been covering the topic with academic groups. This post explains how we look at resilience, links to some of the resources we've found and shares insights from some of the academics who thought about their own resilience tactics. We use the analogy of a bucket during the workshops. Resilience comes from a combination of eliminating or reducing holes from the bucket, whilst keeping the bucket topped up.
What puts the holes in your bucket?
We start with a discussion about what drains away resilience and causes stress. Most people recognise their own triggers easily, but sometimes it's useful to refer back to discussions about individual preferences that we have earlier in the research leader programmes we run, using the Myers-Briggs theory. One of the resources that helps are the MBTI stress heads posters. If you don't like MBTI it's probably best to stay away from this site as it will make you cross (this is supposed to be a post about building resilience, not making people cross).
MBTI suggests that my stressors will include: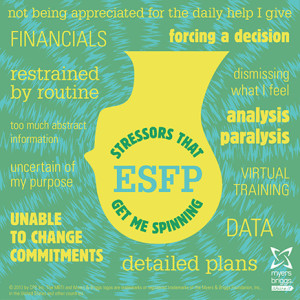 Image: WWW.CPPBLOGCENTRAL.COM
I largely agree with this. I find myself feeling drained when I have to deal with:
mean people – unecessarily rude emails, aggressive challenges in workshops (happy to be challenged, but no need to be unpleasant)
saying no, but also dealing with the consequences of saying yes to too much
finances, money, insurance, tenders
travelling (for me this is mostly driving long distances on days which are draining enough)(but hopefully not for much longer)
people who don't take responsibility for their own actions and futures
people who think "it's all right for you" (see above)
people who don't say thank you when I go to trouble for them
The point in the workshop when we talk about this is also a chance for people attending to vent a little of their frustration and realise that it isn't just them. We sometime talk a little about Imposter Syndrome which gives me an excuse to point to Professor Dame Athene Donald's blog post. Interestingly, she's returned to this topic more than once. It's not just you…
Common holes in buckets include:
Colleagues who are bottomless pits of despair and/or demands
Lack of respect
"Meteors" – uncontrolled, unexpected, unpleasant things that drop out of the sky
Rejection
Managing and dealing with competitive pressure
Pointless bureaucracy, particularly when demanded at short notice
Priorities changing (i.e. new head of school, new university policies)
Some researchers also mention the impact of REF, politcally driven research agendas and funding models for the work they are doing. 
We don't dwell on the negatives for long. The next stage is to look at studies into workplace resilience. We look at two:
Robertson Cooper – who have a resource on-line which allows you to create a free personal iResilience report (although I have to say, I didn't find mine hugely useful)  http://www.robertsoncooper.com/improve-your- resilience/i-resilience-free-report-preview
Psychology Foundation of Canada – which has produced a short, but informative  Workplace Resiliency guide.
Once we've looked at the key features of the two models, we work in small groups to identify things that we already notice improve our resilience and what else we can do. It's different for everyone, but these have come from academics and researchers during workshops.
Develop mindfulness – focus on the task and the goal
Build clarity about what's really important
Keep things in perspective
Hobbies – outside interests – work-life balance
Don't be afraid to ask for advice
How would my mentor/someone more experienced handle this issue?
Have a Plan B/contingency plan
Don't be reactive
Have a cool head
Choose your battles. Sometimes the path of least resistance is best
Problem definition & problem framing to find out what's really going on
Exercise
Talk with positive people
Get a sense of perspective
Remind self of autonomy
Confidence
Remind yourself of your accomplishments
Regard every "set-back" as a learning experience – don't keep on making the same mistakes
The various models of resilience building have common themes. These seven are the ones that have resonated with me – you may have others.
Having a good balance between work and life. By being able to relax and switch off from work; by being able to give time and energy to our families and friends, we are more likely to have focus at work because of being rested and less affected by guilt.
Achieving our goals. If we can see that we are regularly achieving progress, we build a sense of being capable and in control. When we face a new challenge, we do it with a memory of success in other areas.
Doing meaningful work. Working on something that we see as being important and in tune with our values helps us to be motivated by a wider purpose and to be committed to overcoming barriers.
Having good support network. People are key to our success and happiness, as has been repeatedly stated in other chapters. Don't be an island – develop strong relationships with people who can support, reassure and help you.
Exercise and healthy eating. It is perhaps the greatest injustice in life that sitting on the sofa watching Poirot repeats and eating hob nobs will never be the key to a healthy existence. Regular exercise and eating well need to be part of your resilience strategy. Nothing else has the same impact on emotional and physical wellbeing, both now and in the future.
Seeing the positive. Without being naïve, it's important to see the best in our environment and colleagues. When faced with a difficult situation, you should believe that you can find a positive outcome and that people aren't trying to take advantage or belittle you. Look for the positive and if it isn't there, seek help.
Getting feedback and reinforcement of achievement. Resilience grows when we can trust our judgement in difficult situations. This will be strengthened if we get feedback from others when we do well – make sure that you get an annual review and discuss successful outcomes to previous challenges with your line manager.
More resources: (thanks to Janet Wilkinson of ThreeTimesThree Consulting for these suggestions)
 Professor Derek Mowbray  has written a series of guides to buiding resileinces as an indivdiual, manager and organisation. These resource builds on his research in the area and the personal guide is written in a questionnaire/workbook format that makes it easier to develop your own resilience strategy.  http://www.mas.org.uk/publications/personal-resilience-guide.html
Confidence can come from understanding your strengths rather than focusing on what you perceive are weaknesses. The Strengthsfinder book is a useful tool for identifying areas in which you are performing well as a basis for improving performance. With the book is a code to complete an online questionnaire which results in a comprehensive report and action planning suggestions.
Resilience is often linked to a feeling of control which relates to time management. Our time management guide and our post on time management advice tailored for academics, may be useful if you feel over-committed or that you aren't setting the right priorities.