Bang Goes the Borders 2015 — Saturday, September 19th — 10am to 4pm
Welcome to the information page for Bang Goes the Borders 2015. Workshop descriptions are now appearing on our Facebook page  so you can start to plan your day. Click here to download the programme with summaries of all the workshops and activities
NEW! If you're bringing younger children, here are some suggested workshops for little sisters and brothers. You're never too young to be a scientist!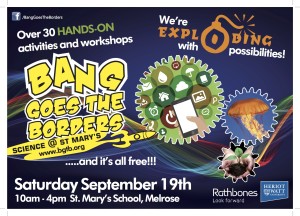 LOCATION:
Bang Goes the Borders is hosted by St Mary's School in Melrose, at the heart of the Scottish Borders. For directions to the school please click here.
Unfortunately we cannot offer onsite parking on the day, however there are a number of carparks in Melrose. For more information please click here.
WHAT'S ON?
As in previous years, Bang Goes the Borders site is spilt up into 6 coloured zones with a wide range of workshops and activities for science enthusiasts of all ages. The programme will be published here just before the big day, but here are some of the attractions we've already confirmed:
Blue Zone – soil, supercomputer scrapheap challenge, cosmic keyboard, spookily shocking static, and volcanoes

Red Zone – bubbles, colour change magic, bacteria and animal handling

Green Zone – explosions, chocolate, eye dissections, fruit flies and science gaming

Yellow Zone – DNA Discovery and Arctic climate change

Orange Zone – our new marine zone, DNA crime scene, construction and plastic pollution

Purple Zone – cold science and boat racing
You can find the descriptions of all the workshops and activities in our events summary, but remember that there may be small changes made in the run-up to the event. Check with us on the day (there will be lots of volunteers wearing red lanyards) or contact us via Facebook if you have any questions.
Each event has a recommended age range and children must be accompanied by a responsible adult at all times.Events are not ticketed, so make sure you are at the venue in good time to avoid disappointment.
There is a cafe serving light snacks and refreshments on site, as well as a designated picnic area.
First aid posts are clearly signposted and should you have any questions on the day, look out for our volunteers wearing the red lanyards.
Our presenters will need to take a few breaks during the day. If a presenter is on a break, there will be information at the venue as to when the event will restart.
ABOUT:
If you haven't been before, here's a little bit about the history of BGTB.
Bang Goes The Borders is a free science festival for all the family. Now in its fifth year, BGTB brings together some of the UK's most exciting scientists, science communicators and teachers for a fun and action-packed day of hands-on science.
Since 2010, over 3700 people have participated in over 140 events and this year's festival is going to be even bigger and better. In the past we've had a physicist lying on a bed of nails, a biologist explaining how to survive a zombie attack, computer games you play with just your thoughts, explosions a-plenty, a giant snotty nose, frozen bananas and scabs in cups. This year will see the return of some old favourites, but we also have some exciting new events in the pipeline.
Be sure to check out our Facebook page for all the latest news and we look forward to seeing you on September 19th!